Join us as the Lord carries this message of HOPE
Mid-Day with Minta - Guest Andrea Sparks
Town-Hall discussion about keeping children safe and (anti) child-trafficking efforts in the current conditions. 

Thu, Jul 9, 2020 12:10 PM – 12:40 PM (CDT)


(Bio):
Andrea Sparks is the Director of the Governor's Child Sex Trafficking Team. The Team leads collaborative efforts to build sustainable capacity, enhance expertise, and promote policies to prevent child sexual exploitation, to help survivors heal and thrive, and to bring exploiters to justice.  Since Andrea's appointment by the Governor three years ago, Texas has become a national leader in developing trauma-informed coordinated care and services for child and young adult victims. In addition to building a continuum of survivor care in Texas, Andrea leads the Team's efforts to prevent exploitation and to support the criminal justice system in holding exploiters accountable.  After graduating from the University of Texas School of Law and serving as a staff attorney at the Texas Supreme Court, Andrea represented children and families in child protection cases.  She then served as the Director of Public Affairs for Texas CASA and Executive Director of the National Center for Missing & Exploited Children's Texas Regional Office.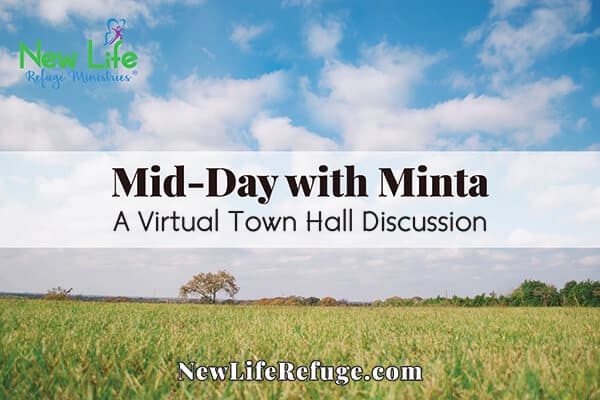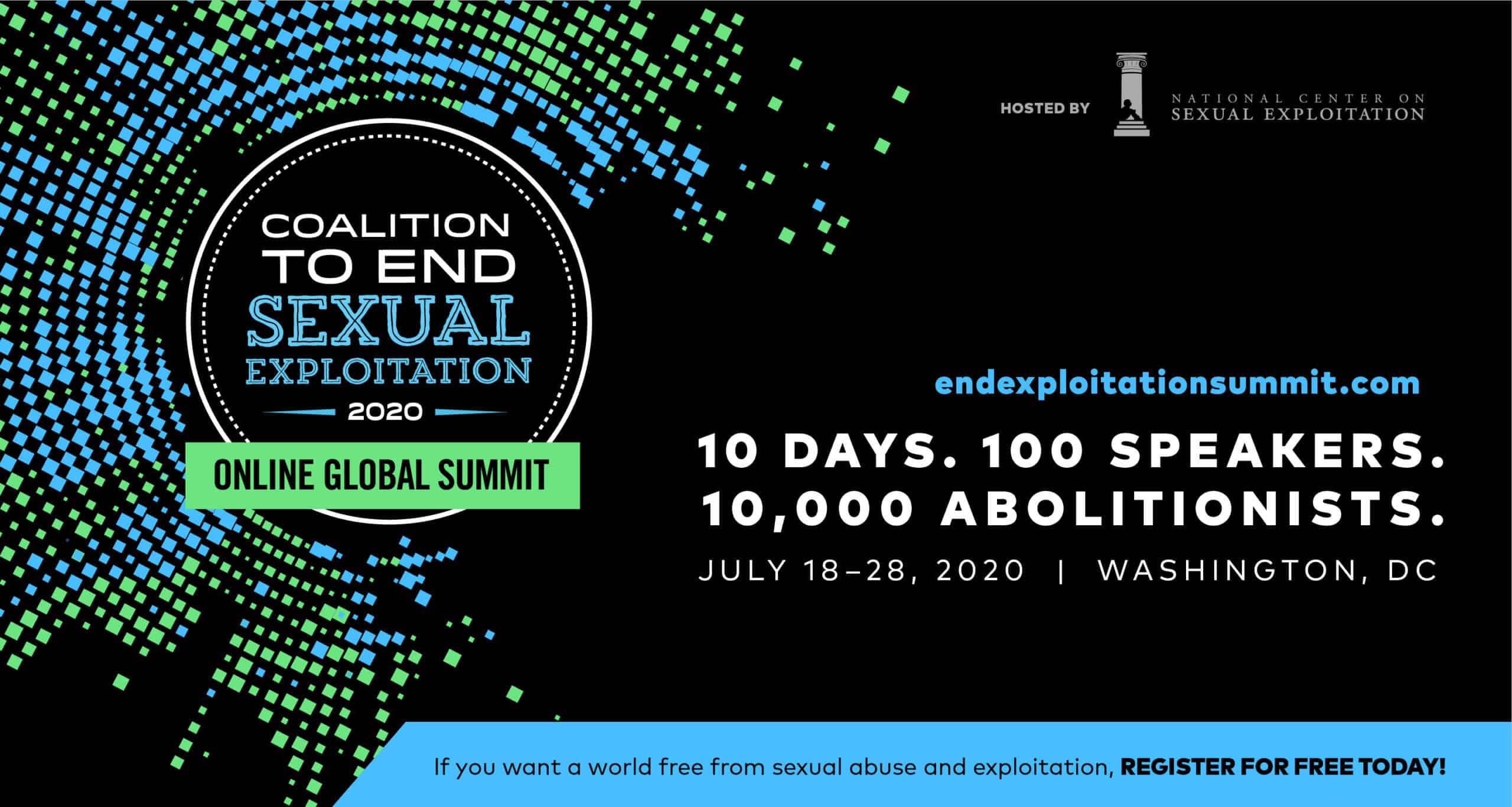 Sign up for the Summit today! Summit is FREE!
Thank you to National Center on Sexual Exploitation!
New Life Refuge Ministry has partnered with National Center on Sexual Exploitation for their 2020 Global Summit!

The linchpin annual event for the worldwide movement to end all forms of sexual exploitation is going online this year and it is FREE! I'll be attending and hope you will join me! Every year it is a source that springs forth new partnerships, projects, and victories.

Join us at the FREE 2020 Coalition to End Sexual Exploitation Online Global Summit by registering today.There will be training for everyone – whether you are longtime involved in these issues, or just starting, or are looking for resources to protect your loved ones. Make sure to join me for the #CESESummit to #EndExploitation!

Visit our affiliate page for more information, free registration and other membership options.
July 30 marks World Day Against Trafficking in Persons, begun in 2014 to raise awareness and encourage the international community to take action against human trafficking – compelling labor and commercial sex through the use of physical and sexual abuse, threats of harm and deportation, false promises, economic and psychological manipulation, and cruelty.

While human trafficking can occur in a variety of scenarios and industries, indicators of trafficking activities often look the same across cases. U.S. Immigration and Customs Enforcement (ICE) participates in a variety of human trafficking awareness events during National Slavery and Trafficking Prevention month and throughout the year.

Join the fight! Help protect children and heal those who have been exploited!
Donate locally to anti-human trafficking organizations like New Life Refuge Ministries.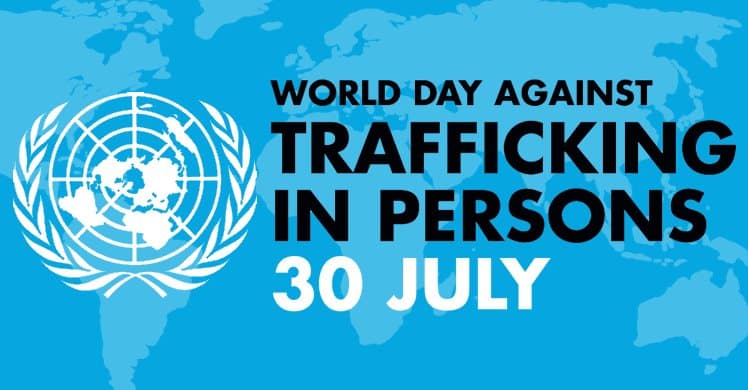 *POSTPONED*
Drive New Life Refuge #EndChildTrafficking
* POSTPONED* 
Test Drive a Car for a Cause!
Mention New Life Refuge Ministries and Sames Ford (4721 Ayers) will donate $25!

The fight to educate and end child sex trafficking is a community battle. Sames Ford, New Life Refuge Ministries and KIII TV are partners raising awareness and funds in support of the victims of this crime; and their families. Come out and test drive a vehicle at Sames Ford Corpus Christi and Sames will donate $25 to New Life Refuge Ministries. It's a simple way to raise funds and awareness.
You must be 18 years old or older in order to test drive a vehicle. #EndChildSexTrafficking.
Thank you to all partners in the community for helping us with this event.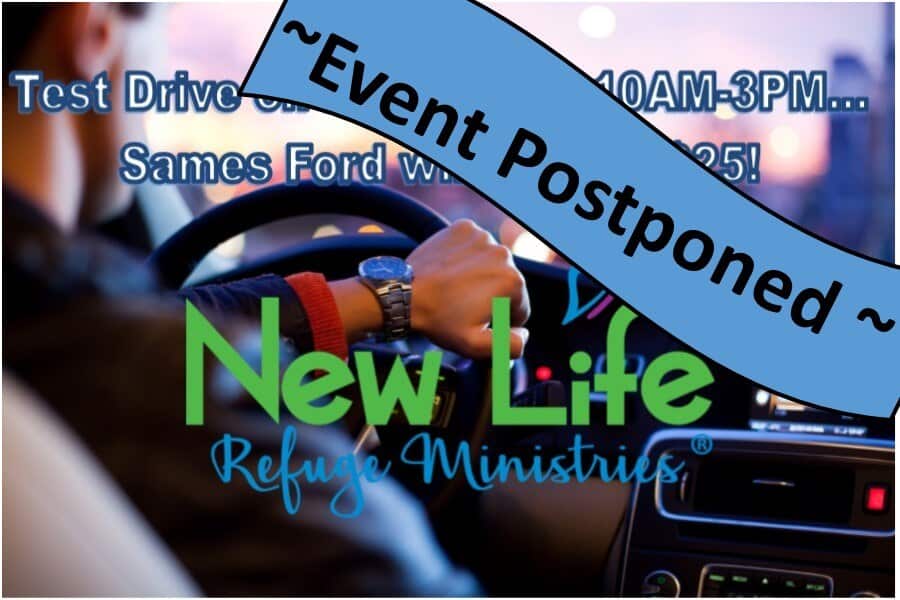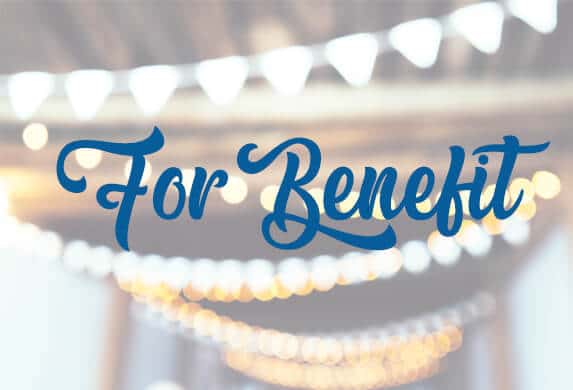 Host an Event For Benefit of New Life Refuge Ministries
Host a "For Benefit of New Life Refuge Ministries" fundraiser. 
Please see downloadable forms for more details.
Here's some ideas! 
Have a small home gathering of friends to educate them on the issue. 
Do you love crafts?
Invite your church group to do an event on a semi- annual or annual basis such as:
Bake sale/Chili cook-off
Craft sale/rummage sale
Luncheon/tea
Host yearly events such as: 
(Tickets sales / proceeds go to NLRM.)  
A luncheon on the topic of DMST where we come as keynotes. This can be held at your church or a local hotel/conference center. 
Sponsoring a screening of an anti-trafficking documentary at your church or local theater. 
Fishing tournament
Golf tournament
Tennis Tournament
5K Walk/Run
More Ways to Help
Want to help but don't have a lot of time?   
Ask your Church, Community or Civic Organization to come together in support with their donations.
Start an Online Donation Campaign.
Please complete and submit the forms below and send to info@newliferefugeminsitries.org
BY SUSANN'S CUSTOM JEWELERS
Half of the profits from each "Courage Coin" pendant purchased from Susann's Custom Jewelers will go to New Life Refuge Ministries's goal of helping a rescued children shine bright again.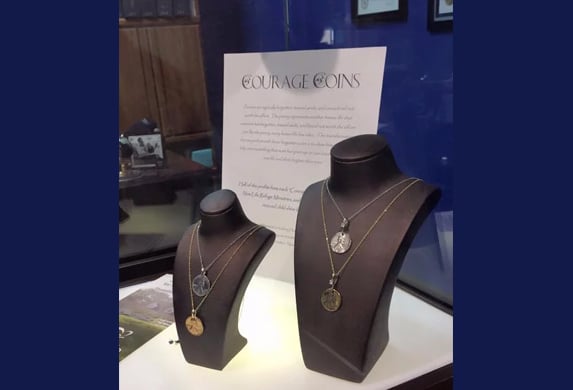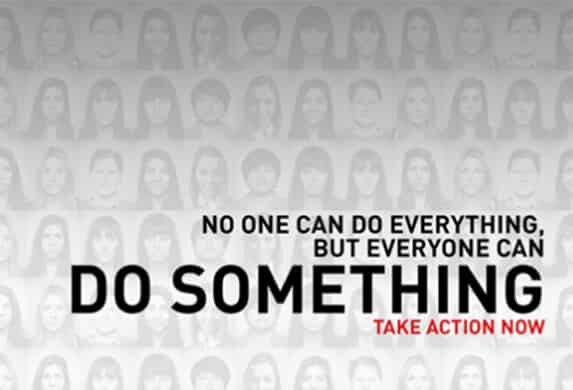 In Loving Memory of Mariza Angeles Smith who's Legacy of Love is truly dynamic! She devised the Dynamic Dollar Campaign as a means to raise awareness to develop advocacy, and to take action on the issue of child sex trafficking. Mariza always felt, that one dollar, affordable by everyone, is the best vehicle to allow one to be aware, advocate, and certainly take action.
How does a Dollar become a Dynamic?
1) Make a collection container.
2) What you simply say to people in your office, people in any group, and / or to people you meet: "Please give $1.00 to help stamp out human trafficking." That's all that is needed. If they have questions give a simple explanation about New Life Refuge Home of Hope for underage survivors.
3) Ask the person to, in turn, "spread the word about the issue and need for housing,"– ask others to begin to collect.
4) The simple dollar over and over becomes the "Dynamic Dollar!"
5) Remember: a "decline of a dollar" for your jug is not a reflection of you personally. Keep plugging away!
What is a Party with a Purpose?
It is an informal gathering of your friends you learn more about the issue Domestic Minor Sex Trafficking (DMST) and what New Life Refuge Ministries (NLRM) is doing to fight this crime and help those who have been victimized by it.
Why host a Party with a Purpose?
It is a great way to bring awareness to the issue of domestic minor sex trafficking (DMST) and the need for restorative. By hosting a Party with a Purpose you will be part of the solution to end child sex trafficking by educating your friends and family on the issue. You and your guests will learn how to keep the children and youth in your lives safe from traffickers. The Party with a Purpose will give your guests a greater awareness of a nationwide growing problem which could affect a child in their lives and the future of our country's youth.
What will it cost?
The cost is up to you. It's no more than the cost of having friends over. We provide a House Party Manual to make party planning easy. Donations are not a required but are appreciated.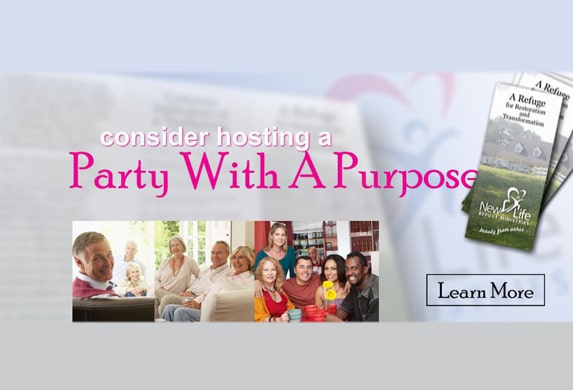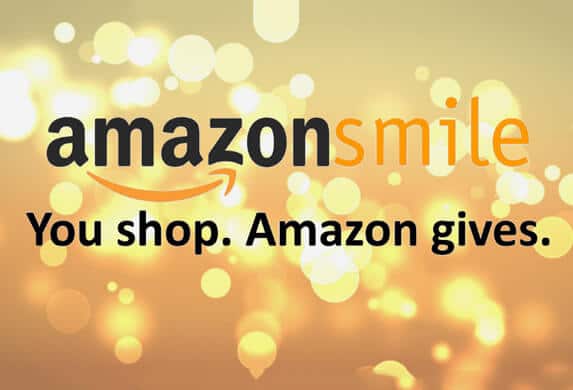 Amazon will donate 0.5% of the price of your eligible AmazonSmile purchases to New Life Refuge Ministries whenever you shop on AmazonSmile.
People can support us by using Good Search as their search engine and selecting us as their charity of choice.